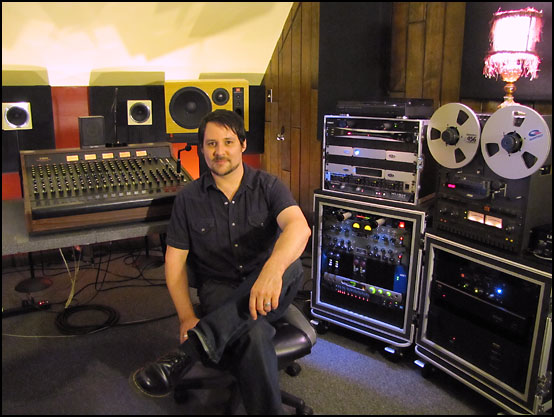 Laine Pierce at Pierce Recording

Pierce Recording
| | |
| --- | --- |
| Who: | Laine Pierce |
| What: | Studio Owner, Engineer, Producer, Musician |
| Where: | Asheville, North Carolina |
| Gear: | JDK R22 compressor, JDK R24 EQ, API 500V |
From the Front:
"I looked at several designs of compressors and EQs but only one brand fit my criteria of being truly versatile: JDK. I knew that I wanted two channels of outboard EQ and compression that could handle any task I asked of them. I chose the R22 and R24 because they performed superbly at being workhorse tools while also offering a touch of class. The R24 is very smooth and is excellent as a sweetening and tracking EQ for additive as well as subtractive EQing on individual tracks as well as program material. The compressor can be whatever you want it to be — transparent? No problem. Or it can have the flavor and similar pumping slam of its cousin, the API 2500.
"The R22 and R24 are of an industrial build quality with fantastic metal work and super thick steel faceplates. The pots are super smooth and the knobs are built to last. The toggle switches are solid and the R22's VUs are nice and bright. Both interfaces are well thought out, fun to use and visually appealing in a very classic way. Pair all of this with API's super personable staff, excellent customer service, a reputation that precedes them, and, let's not forget, great prices. This is a professional product line that is truly a smart buy."
About Pierce Recording:
Laine Pierce began his foray into music at age 15, picking up bass guitar and casually playing music with his friends. Later, Pierce attended Full Sail University from 2001 through 2002, graduating with an Associate's Degree in Recording Engineering. Today, he is the owner of Pierce Recording, a full-fledged studio he runs out of his chalet-styled home in North Carolina. The studio has multiple rooms including an open-sounding 22-foot cathedral ceiling live room. Past clients have included Atlanta-based Michael Bradley (Antic Clay), electronic rock band Sonmi Suite and legendary Motown writer and R&B artist Sidney Barnes.
Contact: http://piercerecording.com/studio/
Also on Facebook, Youtube and Soundcloud
More The Front Line...
How are you using your gear?
Just send us:
a brief description of your JDK products,
what you like about them,
and a picture of you with your gear.
If we use your information, we'll post it on the JDK website.
Email your info to mquinn [at] apiaudio [dot] com