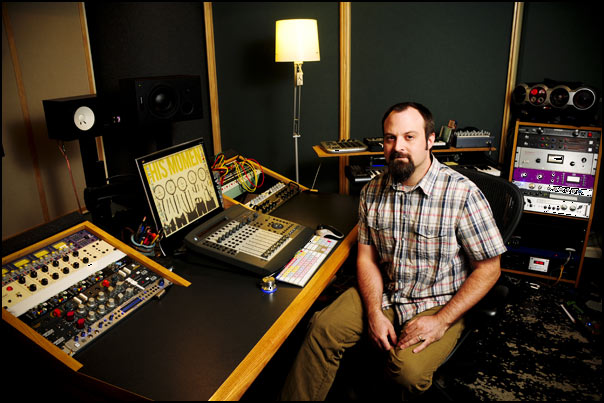 Stephen Leiweke at Yackland Studio

Stephen Leiweke and Yackland Studio
| | |
| --- | --- |
| Who: | Stephen Leiweke |
| What: | Producer, Engineer, Artist Developer, Guitarist, Studio Owner |
| Where: | East Nashville, TN |
| Gear: | JDK R24, API 3124m+ |
From the Front:
"My R24 instantly became one of my favorite EQs. It has the ability to shape a signal almost transparently. It almost sounds like a passive EQ. Everything I run through it always comes out sounding musical, natural and pleasing, never harsh or one dimensional. I particularly love the R24 on drums and bass. I've even found it very helpful on my 2 Bus from time to time.
"As an aside, what can I say about my API 3124m+? I love it. The flexibility it brings to my studio is indispensable and I use it on everything, especially drums, bass, guitars and keyboards. The built-in mixer is perfect for summing two guitar or drum mics together so they can then go into one compressor or EQ and then into Pro Tools. Big guitars and big toms come from this box.
"I truly appreciate API's dedication to sound quality in both the R24 & the 3124m+. It's nice to be able to trust a piece of gear and know that you're going to get something great from it every time."
About Yackland Studio
Originally from St. Louis, Missouri, Stephen Leiweke graduated from Greenville College in Illinois with a bachelor's degree in guitar performance and composition with a minor in studio engineering. While in attendance, Leiweke worked with the popular Christian rock band Jars of Clay on their debut self-released EP "Frail." This project helped the group land a record deal with Essential Music. He later moved to Nashville, Tennessee, eventually starting Yackland Studio in his basement in 1997. The basement studio was made up of a simple control room and an isolation room where musicians such as Kelly Minter, Yancy and Margaret Becker recorded tracks.
Earlier this year, Leiweke moved Yackland out of the basement and into a new dedicated studio space in Nashville. With a control room designed by Gary Hedden, a live tracking room for drums and strings, three isolation areas for vocals and guitars plus API and JDK gear, the new Yackland Studio is more than ready for its fall line-up that includes Ian McQueen, Hello August and Coal Train Railroad to name a few.
Also on: Tunecore
More The Front Line...